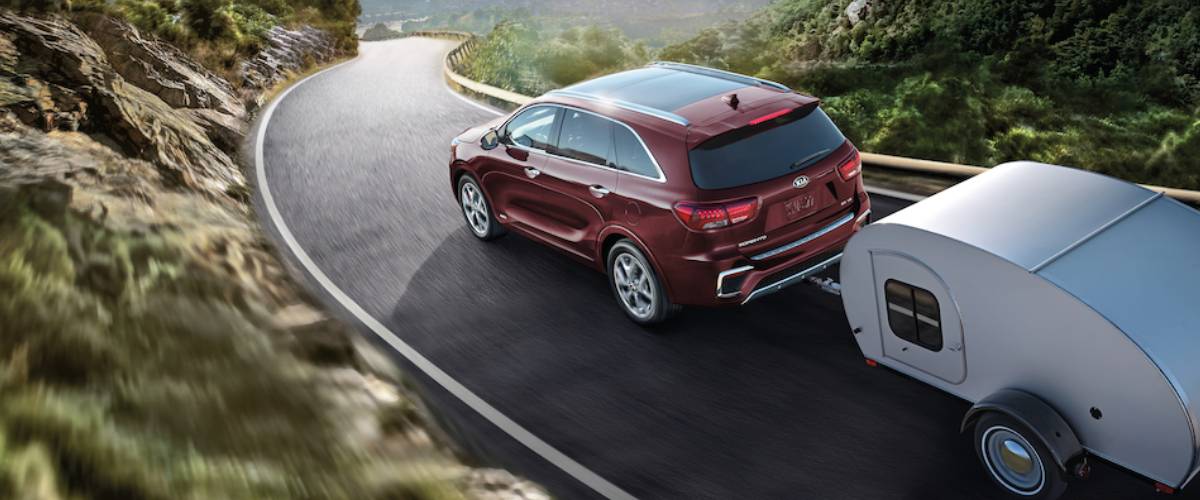 Kia Sorento
Frequently Asked Questions
Kia Sorento FAQ
When shopping for a new family SUV, one of the first considerations is whether you need two or three rows of seats. One benefit of compact and two-row mid-size crossovers is that they provide comfortable seating for passengers while maintaining an easy-to-drive footprint. When your needs expand to three rows, Buffalo drivers may find themselves compromising maneuverability for passenger accommodation. The Kia Sorento aims to find a middle ground. It provides seating for up to seven passengers while maintaining its mid-size crossover dimensions. Here are some answers to common questions about the Kia Sorento.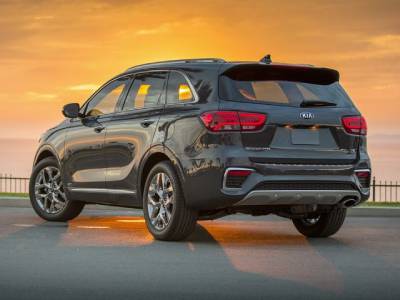 Can the Kia Sorento Go Off-Road?
While you probably shouldn't take a stock Kia Sorento crawling over a rock garden, it's more than capable of leaving the asphalt behind. The Kia Sorento features 7.3-inches of ground clearance, an available 3.3-liter V-6 engine (290 horsepower, 252 pound-feet of torque), an available fully-active Dynamax™ All-Wheel-Drive system, active Electronic Stability Control, Hill-Start Assist, Electronic Brake-Force Distribution, and Smart Shift & Drive.
Can the Kia Sorento Tow a Boat?
The tow limit of the base-model Kia Sorento tops out at 2,000 pounds. However, a properly equipped V-6 model boasts a maximum tow rating of 5,000 pounds. That's more than enough to pull a standard size deck boat.
Can the Kia Sorento Be Flat Towed?
A Kia Sorento must be towed with a trailer if it is AWD or a tow dolly if it is FWD.
Does the Kia Sorento Have Smartphone Integration?
Yes! The base-model L trim equips a seven-inch touchscreen infotainment system with Apple CarPlay and Android Auto smartphone integration. The Kia Sorento SX features a larger 8-inch touchscreen display.
How Much Does the Kia Sorento Weigh?
Depending on configuration and equipment, the Kia Sorento has a curb weight between 3,800 and 4,100 pounds. The Kia Sorento's maximum gross weight is between 5,300 and 5,600 pounds.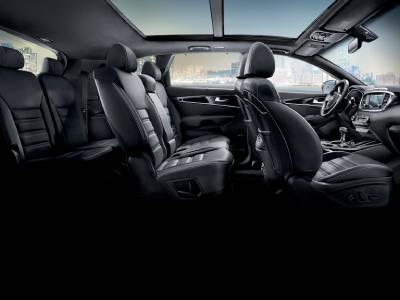 How Many Seats Does the Kia Sorento Have?
The Kia Sorento is a three-row mid-size crossover with seating for up to seven riders.
How Much Cargo Room Does the Kia Sorento Have?
If all seven seats are up, the Kia Sorento has 11.3 cubic feet behind the third row. The rear two rows can fold in several different configurations to expand available cargo capacity up to 73 cubic feet.
Does the Kia Sorento Have Adaptive Cruise Control?
Cheektowaga and West Seneca drivers can equip adaptive cruise control with the EX Sport trim level.
Does the Kia Sorento Have Active Safety Features?
Yes! The LX trim features systems for forward collision warning, automatic emergency braking, parking sensors, blind-spot monitoring, and rear cross-traffic alert. The EX Sport trim equips adaptive cruise control, lane-keeping assist, a driver alert monitor, and automatic braking for the blin-spot and rear cross-traffic systems.
Where Can I Test Drive the Kia Sorento
Northtown Kia is proud to offer a full inventory of Kia Sorento models. For more information regarding available options and financing, give us a call at your convenience. If you'd like to check out the Kia Sorento in person, we invite you to visit us in Amherst, NY, for a test drive. We'll be happy to set you up with a test drive.