Why Buying a Certified Pre-Owned Kia Makes Sense
Browse Our Extensive Certified Inventory Below!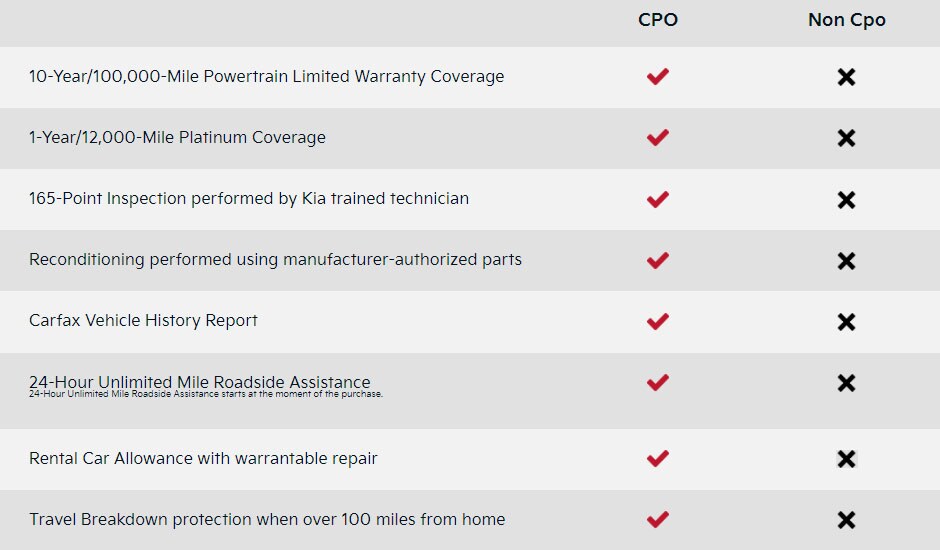 Top-Quality Pre-Owned Cars Here in Amherst, Certified with Authenticity and Protection!
A used car certainly has its benefits to any family or individual on a budget, even to those just looking to save a bit of money. Nowadays, a used car is an affordable option if purchased from the right dealership, whereas, in the past they have been looked at as "junkers" or otherwise low-quality. Here at Northtown Kia, our pre-owned Kia models are anything but low quality, in fact, our inventory of Kia Certified Pre-Owned (CPO) models are some of our highest quality used cars and are held to the highest authenticity standards. In order to receive certification, each pre-owned Kia model must be five years old or newer, have less than 60,000 miles on their odometers and must pass a comprehensive 164-point Assurance Inspection and reconditioning as needed. Once they're certified, each of these models comes standard with a free CAERFAX® Vehicle History Report detailing its driving history and previous maintenance appointments. Come find one for yourself today here at Northtown Kia in Amherst, NY!
Lots of Protection for Buffalo's Investment
When you purchase a Kia CPO model from Northtown Kia, you're not just receiving a sedan, hatchback, or crossover that's practically brand-new for an affordable price, you're receiving confidence and peace of mind when you drive. What best brings out peace of mind? Well, we think that it's the protections that safeguard each of our Kia CPO vehicles; each Kia CPO model comes backed by several warranties to protect your investment for as long as possible. There's the 10-Year/100,000-Mile (whichever comes first) Certified Pre-Owned Limited Powertrain Warranty, covering important components such as the engine, transmission and driveline. Additionally, each Kia CPO model comes backed by 12-month/12,00-mile Platinum Coverage and 24-hour Roadside Assistance covering a wide range of important repairs should you need them. With 24-hour Roadside Assistance, your coverage lasts for 10 years with no mileage restrictions; it also covers all towing and car rentals as well as travel breakdown coverage.
A Kia Certified Pre-Owned Model, Ready for Williamsville, Here in Amherst!
Get confidence and peace of mind when you drive a high-quality Kia Certified Pre-Owned model from right here at Northtown Kia! Excellent models, affordable prices, great service, all is guaranteed when you visit our dealership and test drive a Kia CPO model! We're located just 12 minutes outside of Cheektowaga in Amherst, NY and our sales team can be reached at (716) 217-2930, during regular business hours, with any questions you might have. Come see us today!